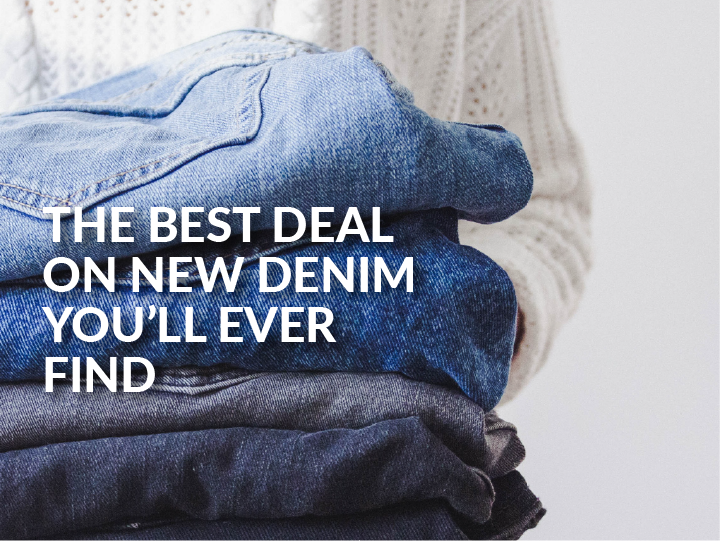 The espy Denim Coupon and Why You Need One (Or Four)
How do they do it?
Do you find yourself in constant awe of that one friend who always seems to be wearing the latest on-trend denim?
How is this possible?
How can they afford all of these new jeans?
Where are they getting them from?
Well, the truth is they know something you don't. It's time to let the secret out of the bag and reveal to everyone what your friend and espy clients have known for a long time. This is everything you need to know about the espy Denim Coupon.
So, what is the Denim Coupon exactly?
So you might have received an email recently or got tagged in a social post regarding the espy Denim Coupon. But what is it? 
How it works is quite simple, twice a year we provide you with a link to purchase the Denim Coupon. Coupons cost $29 and entitle you to $71 off any pair of our full-priced 5-pocket denim.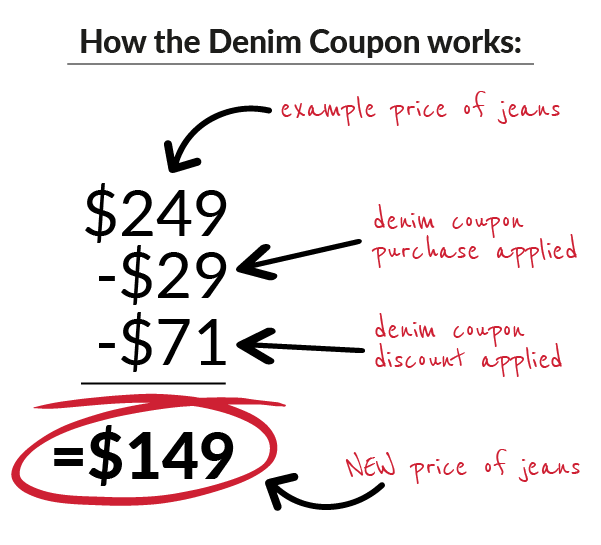 There's a catch though.
The coupon is only on sale for a certain period of time and it has an expiry date.
Our Most Common FAQ's
When can I buy them?
We sell the Denim Coupon twice a year. Because we're all fashionistas and love new seasonal pieces, the Denim Coupon usually goes on sale once in Spring and once in Fall. That's coincidentally right when all the latest styles and trends are just hitting the shelves. Coupons are available for purchase online and in-store.
Where can I buy them and how many can I buy?
The easiest way to gain access to the denim coupon is to receive our monthly newsletter. Along with access to the Denim Coupon, you'll stay up to date on what's happening at espy but insider information regarding our sales and special events. When the coupon goes on sale you can buy as many coupons as you'd like. Oh, and once purchased you can use it immediately.
Haven't signed up yet? Do that here >
Can someone else use my coupon other than me?
Yes, you can gift your Denim Coupon to your mom, dad, best friend and even your neighbour.
When does it expire?
The Denim coupon Expires roughly 5 months after purchase. We'll always give you the exact expiry date when you buy one, and a heads-up before it is set to expire. And don't worry, the $29 you spend on purchasing a coupon never expires. That means if you can't make it in to use all your coupons before they expire, or you bought multiples and can't fill up your demand for jeans, you can use the $29 towards your next purchase in-store!
Are there any restrictions?
Yes, one coupon per one pair of jeans and Denim Coupons can only be used for one thing, denim! Full price, 5-pocket denim. That's it, that's all. They are not valid for chinos, dress pants, denim jackets, denim dresses, or casual pants.
I thought you get $100 off a pair of jeans, not $71.
You pay $29 and that coupled with the $71 discount covered by us equates to $100.
Can I use my coupon on denim purchased online?
No, unfortunately, our website does not support denim coupons due to the way that the coupons are split (you pay $29 and we pay $71). If you wish to use your Denim Coupon without coming into the store, please contact us and we'll be happy to assist.
Keep an eye on your inbox!
espy carries a massive variety of denim brands and the next denim coupon is set to go on sale soon!
As denim specialists, you can have complete confidence that our team will find the best pair for you and your body type. Whether you're looking for work jeans, a comfy Sunday casual, or something to wear out on the town, we have got you covered! With espy, jean shopping just got a little less difficult and a little more affordable.
We are Calgary's #1 Premium Denim Destination!