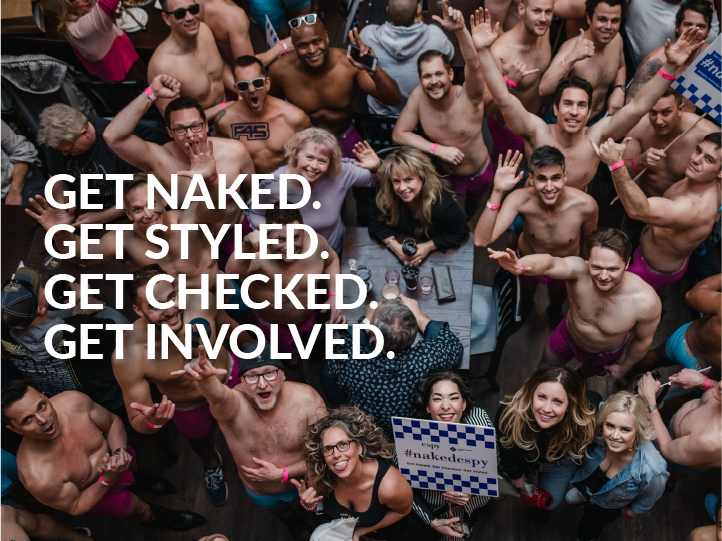 Giving Back to Our Community: #nakedespy
Registration for #nakedespy2023 is now CLOSED.
#nakedespy
The inaugural #nakedespy took place in 2010 when the proprietor of espy Megan Szanik's dad was diagnosed with Prostate Cancer. Wondering what she and espy could do to raise awareness for others affected by a cancer diagnosis in the community the concept of #nakedespy was born.
It would be a fun event where guys would raise not only money but awareness about men's health for the Calgary Prostate Cancer Centre. In turn, as a reward for their fundraising efforts, they would receive over $1,000 of clothes as a gift from espy. 
This would be an all-day men's event with the guys parading around the neighbourhood in their underwear before coming back to espy to get fitted in their new clothes.
The idea took off and by the second year, men were lining up to get involved and make an impact.
How it Works
1. Participants must make an initial donation to secure their spot in #nakedespy.
2. After registration is confirmed, applicants spend approximately 6 weeks fundraising and competing against one another to raise as much money as possible for the Calgary Prostate Cancer Centre.
3. The end of the fundraising is capped off with participants joining together in an act of solidarity by parading down 9th Ave for all to see.
4. After the parade, all participants are styled inside of espy in an outfit valued at over $1,500- if they meet the required fundraising criteria.
5. Then, it's party time! With burlesque performances, we crown the top fundraiser: Mr. #nakedespy and award him with a $2,500 shopping spree courtesy of espy as well as hand out other prizes from our amazing sponsors at the official #nakedtodressed after-party.
All proceeds and donations go directly to the Calgary Prostate Cancer Centre and will be used right here in Calgary to support education, awareness, and ground-breaking research.
Funds raised go to assist the Southern Alberta Institute of Urology in its mission to improve diagnostic techniques and treatment options, enhance patient quality of life, along with ultimately finding a cure for prostate cancer and prostate-related diseases.
Since opening in 2009, espy has raised over $500,000 for local community charities. Of that, $300,000+ has been raised for the Calgary Prostate Cancer Centre through #nakedespy events and initiatives.
Here's a look at past events.